Nuovo Nexus 7 è ufficiale, in vendita in USA tra pochi giorni ma l'Europa dovrà attendere
Tutti i dettagli sulla seconda generazione del tablet di piccolo taglio prodotto da Asus per Google: debutterà il 30 luglio in USA, ma l'Europa dovrà aspettare presumibilmente fino a settembre, proprio come per il primo Nexus 7.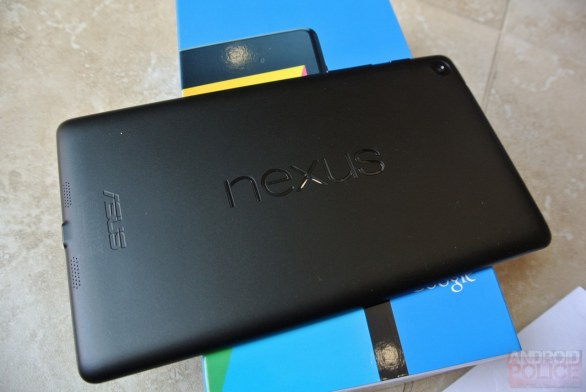 Esattamente come previsto, uno dei protagonisti dell'evento stampa di Google tenuto nel tardo di pomeriggio di ieri è stato il nuovo Nexus 7, la seconda generazione del primo tablet della famiglia Nexus. Quasi tutti i dettagli sul tablet erano trapelati sulla rete nei giorni precedenti, ma oggi finalmente abbiamo una conferma su tutte le specifiche di questa nuova interessante tavoletta Android destinata al segmento medio.
Non sembra, eppure è passato solo un anno dal debutto della prima generazione, che ha dato il secondo grande scossone al mercato proponendo una valida alternativa al Kindle Fire di Amazon, in quel momento l'unico tablet economico di rilievo. In questa versione 2013 il Nexus si fa più snello (sia nel peso che nello spessore), stretto ma al tempo stesso leggermente più alto.
L'aspetto più interessante del nuovo tablet è sicuramente lo schermo, che passa dai classici 1280x800 a un densissimo 1920x1200 da 323 PPI, una risoluzione inedita per questo segmento. Importanti novità anche per il SoC, l'audio e le opzioni di connettività, con una versione 4G LTE che andrà ad affiancare quella Wi-Fi.
In Europa da settembre?
Il tablet costerà 229$ e 259$, rispettivamente per le versioni Wi-Fi da 16GB e 32GB. Ancora nessun dettaglio sui prezzi della versione 4G LTE. La disponibiltà effettiva del tablet è fissata per il 30 luglio e sono già stati avviati i pre-ordini dal Play Store e altri rivenditori, ma per ora la distribuzione è limitata solo al territorio nord americano.
E l'Europa? Non c'è ancora nessuna data ufficiale e Google si è limitata a dichiarare che "altri paesi avrebbero ricevuto il tablet nel corso delle prossime settimane". PC World e Currys, due rivenditori inglesi già partner ufficiali per la distribuzione del vecchio Nexus, parlano di un debutto previsto per il 13 settembre, ma solo per la versione Wi-Fi.
Vi lasciamo con le specifiche complete (in inglese) del nuovo Nexus 7, appena pubblicate sul sito di Asus.
Nuovo Nexus 7: la scheda tecnica finale
Operating System: Android 4.3


Display: 7" LED Backlight WUXGA (1920x1200) Screen, IPS Panel, 10 finger multi-touch support


CPU: Qualcomm® Snapdragon™ S4 Pro 8064 Quad-Core, 1.5 GHz*1
Qualcomm® Snapdragon™ S4 Pro 8064 +MDM9215M Quad-Core, 1.5 GHz*2


Memory: 2GB


Storage: 16GB/32GB *3


Network Standard: DC-HSPA+ UL:42 Mbps/DL:5.76 Mbps, LTE UL:100 Mbps/DL:50 Mbps; 3G: n/a
WCDMA: 850/1900/2100
2G: : 850/900/1800/1900,
4G LTE: 700/800/850/1700/1800/1900/2100/2600*4
Wireless Data Network: WLAN 802.11 a/b/g/n@2.4GHz/ 5GHz*3
Bluetooth V4.0, NFC


Camera: 1.2 MP Front Camera, 5 MP Rear Camera, Auto focus (rear), Large f2.4 aperture. (rear camera)


Audio: Stereo Speakers


Interface: 1 x SlimPort™, 1 x Audio Jack: Headphone


Sensor:
1. G-Sensor
2. E-compass
3. Ambient Light Sensor
4. Proximity Sensor(LTE only)
5. Gyroscope
6. Hall Sensor


Battery: 10 hours; 15Wh Li-polymer Battery *5


GPS: Support


Power Adapter: Output:5.2V 1.35A/7W for other USB device


Input:100-240V AC, 50/60Hz universal, Support Wireless Charging


Color: Black


Dimensions: 114 x 200 x 8.65 mm (WxHxD)


Weight: WiFi: 290 g / LTE: 299 g

Note:
*1: WiFi SKU,May vary by SKU and country.
*2: LTE SKU,May vary by SKU and country.
*3: May vary by SKU and country.
*4: NA/JP SKU: 2100(1), 1900(2), 1800(3), AWS 2100/1700(4), 850(5), 700(13), 700(17)
EU/KR/AU/Others SKU: 2100(1), 1900(2), 1800(3), AWS 2100/1700(4), 850(5), 2600(7), 800(20)
*5: Battery life will vary according to use. Battery life measured by looping 720p video, brightness at 100nits, external microphone, Wi-Fi /3G on, and Gmail logged in for email and updates.
Via | Android Central | Asus