gCubik : il display a cubo per la visione in 3D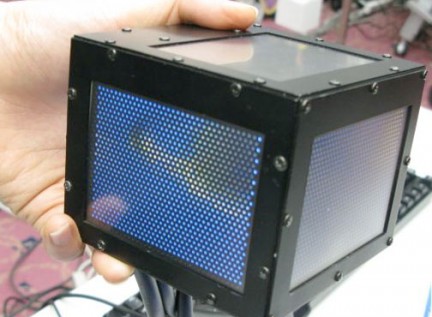 E' palpabile nell'aria che il futuro verte sempre di più su una condivisione tridimensionale delle immagini, ed è per questo che i tecnici del NICT (National Institute of Information and Communications Technology ) hanno recentemente annunciato l'upgrade di gCubik, un dispositivo a sei faccie in grado di mostrare rappresentazioni in 3D.
Nella versione precedente uscita in Giugno la luminosità era tre volte inferiore e si avevano solo 3 faccie funzionali su 6 mentre ora, oltre ad essere tutte funzionanti, esse sono pannelli touchscreen LCD da 3.5 pollici capaci di una risoluzione di 640×480, lo strumento è anche dotato di altoparlanti ed accelerometro a 6 assi, quest'ultima feature potrebbe aprire nuovi orizzonti di sfruttamento del dispositivo anche a scopi, perchè no, ludici.
Ovviamente si tratta di un apparecchio ancora lontano da quella che dovrebbe essere la sua piena funzionalità, così affermano in Giappone, per ora ci accontentiamo quindi di immaginare i mille usi che potrebbero derivarne, dopo il salto potete osservare un video di gCubik all'0pera.

[via CrunchGear ]