Mygo: cane guida elettronico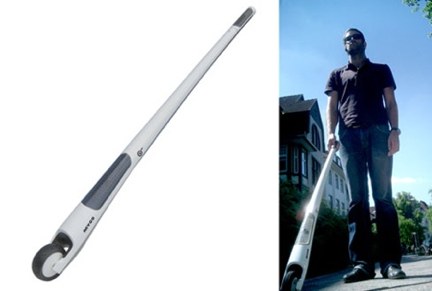 Scopro grazie a Federico un apparecchio, chiamato Mygo, creato da Sebastian Ritzler, del Muthesius Academy of Art and Design, per venire in aiuto di tutti i non vedenti.
Normalmente siamo abituati a vedere queste persone accompagnate da animali perfettamente addestrati, che hanno il compito aiutarli a muoversi nella giungla urbana; grazie a questo prodotto (visibile in foto qui sopra) tutto questo potrà essere evitato: il bastone, corredato di una ruota e una piccola telecamera, riesce a segnalare gli ostacoli inviando segnali sonori via wireless ad un'auricolare che l'utente avrà collegata.
Mygo è impermeabile e monta una batteria agli ioni di litio che garantisce circa 6 ore di funzionamento.
Attualmente non è ancora nei negozi, perché siamo in semplice fase di prevendita: la speranza è di non farlo costare oltre i 200$. Qui trovate una bella galleria fotografica.
[via bioblog]