Le ultime dalla Ceatec: il cellulare-anello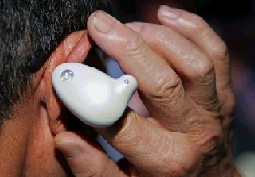 La Ceatec sta per Combined Exhibition of Advanced Technologies, in breve la più grande fiera asiatica dedicata all'elettronica, alla robotica e alle tecnologie per le comunicazioni. La fiera, of course, si svolge in Giappone, vicino a Tokyo. Scopro oggi grazie al Corriere che le ultime novità sono pazzesche...
Vi segnaliamo l'Ubi-Wa. E' una parola giapponese e significa «anello da dito» e «parla col dito», in pratica è un oggetto simile ad un anello riceve telefonate inserendolo nell'orecchio con l'aiuto del dito. E' naturalmente troppo piccolo per avere i tasti ma si sta già pensando di creare un prototipo che usa i movimenti della mano per sostituire i comandi.