Teltonika presenta un modem HDSPA via USB D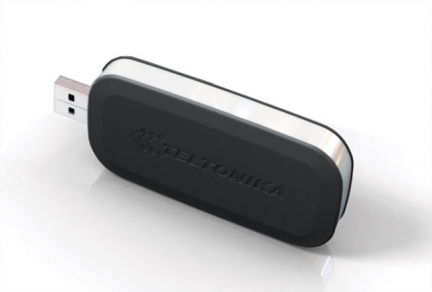 Teltonika ha presentato un modem HSDPA per gli USA molto particolare, sia per le dimensione contenute (poco più grande di una pendrive), sia per il fatto che sia USB e che non richiede la ricerca di reti WiFi.
Può raggiungere una velocità massima di 1,8 Mbps di download e 384 Kbps di upload e dispone anche di tecnologia GPRS, EDGE ed UMTS. Riceve l'energia necessaria direttamente dalla porta USB, quindi non viene richiesto nessun carica batterie esterno.
Infine è compatibile sia con PC (Windows 2000 ed XP) che con Mac (solo OSX 10.4 Tiger) e viene venduto ad un prezzo di circa 285€. Dopo il salto potete leggere le specifiche tecniche.
Pricipali specifiche:
WCDMA/HSDPA
- FDD 850/1900/2100 MHz.
- Power Class 3 (+24dBm).
- 384/128 kbps downlink/uplink modem operation (potentially 384 kbps uplink).
- Supports UL and DL Compressed Modes.
- Supports Circuit and Packet-Switched Data.
- Speed up to HSDPA 1.8 Mbps.
E-GPRS
- 850/900/1800/1900 MHz
- GSM Power Class 4 (2W) for 850/900 bands, GSM.
- Power Class 1 (1W) for 1800/1900 bands.
- EDGE class E2 (+27 dBm in 850/900 bands, +26 dBm in 1800/1900 bands).
- GPRS/EGPRS Multislot Class 10 (4 slots Rx, 2 slots Tx, 5 max active).
- GPRS/EGPRS Class B Type 1 MT.
- GPRS CS1-CS4; EGPRS MCS1-MCS9.
- Circuit Switched Data: 14.4 and 9.6 kbps.
Terminal Equipment Interfaces
- USB 2.0 Full Speed (12Mbits/s) signaling.
- AT interface with standard modem emulation.
- Operating Systems supported:
o Windows 2000/XP/XP Pro/Tablet.
Features on demand
- Compatibile con Mac OS X Tiger.
- Supporto di più SIM card.
- Personalizzazione del dispositivo (colore ed applicazione logo aziendale/personale)
[via SmartDevices]