Mushkin svela il primo SSD mSATA da 480GB per Ultrabook e tablet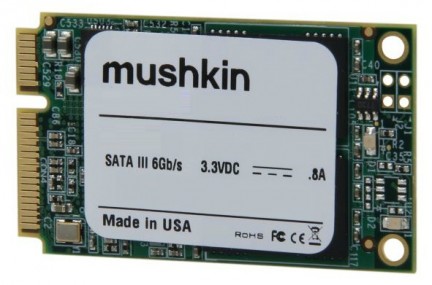 Tablet, trasformabili, ultra-portatili vari e sopratutto Ultrabook sono diventati così sottili che i normali dischi da 2,5" sono diventati troppo ingombranti per questi formati. I costruttori sono quindi migrati verso l'mSATA, che racchiude la stessa interfaccia SATA III da 6Gb/s in un formato lillipuziano, senza involucro e in alcuni casi connesso direttamente alla scheda madre. Oggi Mushkin annuncia un nuovo record di capacità su questo standard: l'ultimo arrivato della famiglia Atlas tocca quota 480GB, un numero inedito per gli mSATA. Continua dopo la pausa.
Con questo drive Mushkin rompe la barriera dei 256GB, riuscendo ad integrare un controller SandForce SF-2281 e 8 chip di memoria NAND col minore ingombro di spessore possibile (50.80 x 29.85 x 4.85 mm), senza sacrificare nulla sul piano delle prestazioni pure.
Ecco le specifiche fornite dalla casa:



SandForce SF-2281 SSD processor with unthrottled IOPS



SATA III (6 Gb/s) interface



Supports ATA APM, Security Set, NCQ



TRIM support (OS/driver support required)



S.M.A.R.T. support



Built-in BCH ECC (Up to 55 bits correctable per 512 byte sector)



High speed MLC NAND



MO-300 (mSATA) form factor (50.80 x 29.85 x 4.85 mm)



Mini PCIe Interface



User-upgradeable firmware



RoHS, FCC, CE



3-year limited warranty


L'SSD mSATA Mushkin Atlas 480GB arriverà a partire da gennaio 2013 tramite i classici canali di distribuzione retail per permettere l'aggiornamento per gli utenti di ultra-portatili. Tanto spazio però si farà pagare caro. Il prezzo sarà di 499$, superiore di circa 200$ al prezzo medio degli SSD da 480GB nel classico formato da 2,5" e circa 10 volte superiore a quello di un normale (e infinitamente più lento) hard disk tradizionale, sempre nel formato mobile.
Via | Mushkin