Jack in the Box: un altro client BitTorrent hardware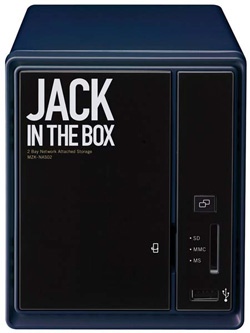 Qualche settimana fa avevamo visto il Procare e|Share, un vero e proprio client BitTorrent hardware.
Quello che vedete in foto non si scosta poi molto da questo concetto, ma vi da in più la possibilità di usare un capiente hard disk fino ad un 1.5TB. La Jack in the Box altro non è che un downloader BitTorrent che, attraverso l'interfaccia web comandabile da ogni tipo di PC, vi permetterà anche di avviare lo scaricamento di infiniti torrent in parallelo (chiaramente, dipende poi dalla connessione che avete sotto).
É inoltre visibile sulla faccia frontale un lettore di card che probabilmente vi permetterà ancor più facilmente di travasare i risultati delle vostre "ricerche".
Al momento viene venduto solo in Giappone a 333$ (circa 250€), ma ci si aspetta di farlo arrivare anche in altri paesi del mondo.
La fregatura? Per quella cifra non vi danno neanche un minimo disco di sample: se volete usarlo, li comprate a parte.
[via scifi]