Jar of Beans, emulatore Jelly Bean portatile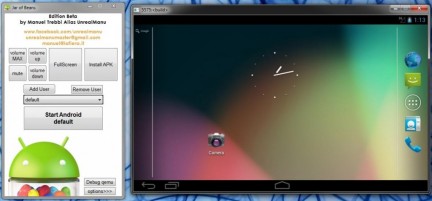 Android Jelly Bean è una delle versioni di Android più chiacchierate di sempre e forse anche tra le più apprezzate. Gli sviluppatori per testare le proprie applicazioni, devono a più riprese preparare un ambiente di sviluppo con i vari IDE e relative dipendenze.
Installare tanti componenti e altrettanti pacchetti può essere un problema, come non avere sempre a disposizione l'emulatore Android. In nostro soccorso, o meglio in soccorso agli sviluppatori, arriva Jar of Beans; si tratta di un applicativo standalone, che non richiede una installazione, che permette di emulare l'ambiente di Android 4.1.1 su qualsiasi PC. Jar of Beans, oltre al fantastico gioco di parole, possiede interessantissime caratteristiche come l'accelerazione hardware, il supporto al multi-utente e la possibilità di installare direttamente i file .apk tramite un comodo installer.
Uno strumento davvero interessante, quello che è arrivato dal famoso forum xda-developers, che ogni giorno riesce a stupirci. Il progetto è molto interessante a mio parere e potrebbe aprire nuove frontiere per lo sviluppo e il testing delle varie applicazioni. Diventerà un elemento fondamentale per gli sviluppatori della piattaforma del robottino? Staremo a vedere.
Via | XDA