Office 2013 per Android e iOS, appaiono i primi screenshot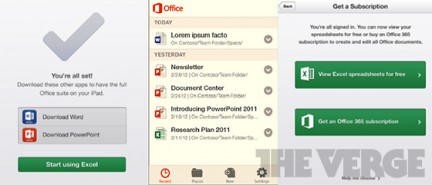 Di Microsoft Office per iOS e Android se ne è parlato a lungo. Dopo numerosi rumors e altrettante speculazioni, finalmente è apparso un primo screenshot e i primi dettagli riguarda la data d'uscita. A raccogliere i primi screenshot ci ha pensato The Verge, che è riuscita a levare uno dei dubbi più pesanti di questo 2012.
Office 2013 per iOS e Android è quindi una realtà. Oltre a questo primo screenshot, dal post di The Verge abbiamo potuto evincere che la versione per iOS arriverà a Febbraio/Marzo del 2013, quella per Android successivamente e molto probabilmente a Maggio.
Direttamente dall'applicazione mobile senza acquistare il pacchetto Office 365 - acquistabile tramite servizio in-app - sarà possibile solamente consultare i documenti, per modificarli sarà necessario sottoscrivere l'abbonamento al servizio Office 365. Office 2013 dunque si appresta a diventare la prima suite ufficio di successo e con una grande nomea ad approdare sui dispositivi mobile. Fama e notorietà basteranno a Microsoft per fare successo?
Via | The Verge