Happy Hallowen: la nuova pagina del Google Play Store ora online!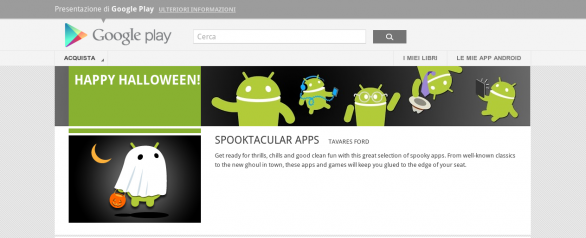 Halloween, la celebre festività che si celebra principalmente negli Stati Uniti la notte del 31 ottobre è diventata il tema per una nuova pagina sul Google Play Store. Nelle scorse ore, sul negozio online di Google è apparsa una nuova pagina: Happy Halloween.
In quel di Mountain View, devono particolarmente aver a cuore la celebre festa e la pagina ne è una conferma. All'interno di questa nuova sezione, che dovrebbe essere tra le altre cose temporanea, troviamo solamente dodici applicazioni di cui undici gratuite. Le applicazioni gratuite sono: The Great Pumpkin Festival, Shoot The Zombirds, Spookley the Square Pumpkin, Gears e Guts, Witch Wars: Puzzle, Halloween Live Wallpaper, Nightmarium, Halloween Pumpkins, The Legend of Sleepy Hollow, Dark Legends e Cloud e Sheep; l'unica applicazione a pagamento rimane Haunted House HD, in vendita a 1.99€. Come può essere facilmente intuibili sono tutte applicazioni che riflettono direttamente o indirettamente il tema della festa di Halloween.
Ottima iniziativa quella del Google Play Store, che se dovesse riscuotere un buon successo potrebbe essere riproposto in diverse varianti. Google è dal lancio di Nexus 7, il primo dispositivo "contenuto-centrico", che cerca di pubblicizzare l'acquisto di contenuti del Google Play Store. Speriamo che anche l'apertura di un account Twitter che segnala le applicazioni in offerta possa mandare avanti il Google Play Store, incentivando anche gli sviluppatori ad approdare su questa piattaforma.