Skype per Windows 8 verrà lanciato il prossimo 26 Ottobre, prime immagini!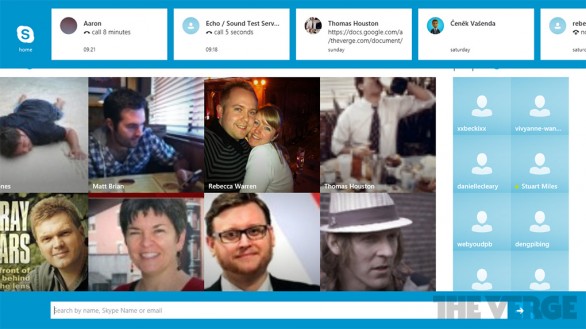 Il prossimo 26 Ottobre, verrà rilasciata la nuova versione del sistema operativo di Microsoft, Windows 8, lo sanno tutti. Il successore di Windows 7 è pronto a fare il suo debutto e dopo l'apertura dei pre ordini, è pronto a recuperare quote di mercato perse a favore di OS X.

Di Windows 8 se ne parla parecchio sul web e dopo alcune prese di posizione da parte degli internauti, ecco che ieri su Downloadblog abbiamo visto come la storia ci insegna che le eccessive critiche portano ad un sistema operativo quantomeno solido e a lungo supporto.
Da parecchio tempo, si vociferava del possibile arrivo di una versione ad hoc di Skype per Windows 8. I rumor però non indicavano una data precisa, cosa che è riuscita a fornirci nelle scorse ore The Verge, che con un lunghissimo e piuttosto curato post ci ha fornito data e immagini in esclusiva di quella che la versione del più famoso software Voip per il nuovo sistema operativo Microsoft. Il 26 Ottobre dunque, in contemporanea con la presentazione ufficiale, arriverà anche questa attesissima versione di Skype.
La recensione dei colleghi di The Verge è ottima, condita anche da una bellissima galleria di immagini. È proprio questo post che per quel che mi riguarda, fa crescere l'attesa per Windows 8 che riuscirà in una impresa "leggendaria", proporre un'unica interfaccia grafica su più dispositivi dal desktop al tablet allo smartphone. Una mossa sottovalutata dai più, ma che potrebbe avere interessanti risvolti in futuro e la nuova versione di Skype potrebbe essere semplicemente la ciliegina sulla torta di quello che sembra un successo annunciato.
Via | The Verge