Tappeto intelligente: riconosce sesso, età e peso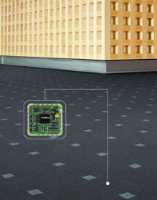 Non capisco bene l'uso che potrebbe avere il chip in foto, ma la National Institute of Advanced Industrial Science and Technology ha pensato che potrebbe essere utile identificare l'età, il sesso ed il peso di una persona.
Come? Semplicemente facendola passare su di un tappeto. Neanche a dirlo è Made in Japan. Sinceramente non vedo utilità, anche se ci sarà sicuramente!
[via my-coke]