Lettore per non vedenti Kurzweil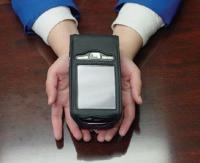 Il Kurzweil-National Federation of the Blind Reader è un device in grado di aiutare tutti coloro incontrino difficoltà a leggere o vedere articoli stampati o che, addirittura, soffrono di completa cecità.
Questo prodotto è a tutti gli effetti un palmare, che possiede una fotocamera digitale con un software di riconoscimento dei caratteri.
Basterà porre questo reader sopra la stampa che vi interessa e automaticamente avverrà una scansione di tutto il testo ivi contenuto; successivamente, in modo semplice e intuitivo, potrà essere riprodotto da un sintetizzatore vocale.

Cosa anche molto utile (anche per chi vede, ma vuole semplicemente avere un prodotto maneggevole per salvarsi le cose), la grande memoria interna permette di tenere traccia di migliaia di articoli "letti", che possono ovviamente essere trasferiti ad un qualsiasi computer.
Il prezzo è di $3495, al cambio €2740. Troppo forse?
[via idealgadget]