La chiavetta USB di Microsoft non arriverà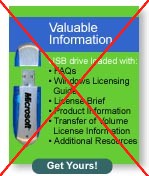 Dopo tanto parlare, ecco che alla scadenza delle 6 - 8 settimana, Microsoft ha inviato una mail a coloro che avevano aderito al programma mystery solved, e indi per cui avevano prenotato la chiavetta USB.

Dal comunicato ufficiale pervenuto a noi e anche ad uno nostro lettore (Lord Zarcon) che tempestivamente ce l'ha segnalato :
Thank you for your interest in the Mystery Solved Windows® licensing promotion. We've received your request for more information to help clarify Microsoft® Windows Desktop Licensing pre-loaded on the USB drive. Unfortunately, this Mystery Solved promotion was available in the U.S. only and while supplies last.
Please utilize the online alternative today, by simply downloading* the Windows Desktop Licensing reference files directly at:
Cioè alla fine i dubbi che tutti noi avevamo si sono rivelati non privi di fondamenta.