DBest "The Terminator of Bluetooth Speakers", una cassa Bluetooth microscopica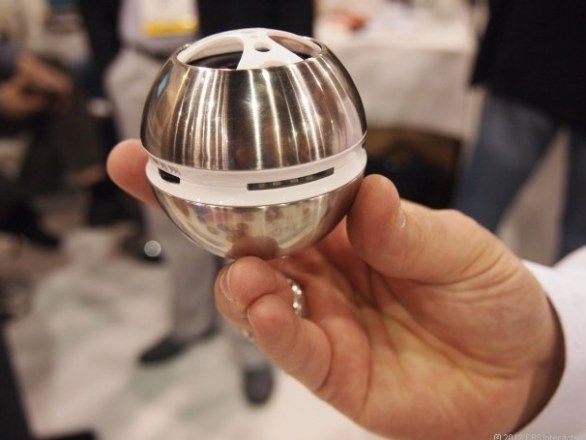 DBest London è così fiduciosa sulla sua cassa Bluetooth da averle dato il nome niente affatto modesto di The Terminator of Bluetooth Speakers.
Vista così, sembra più una granata che uno speaker, ma è un tipo di design con il quale siamo abbastanza familiari, essendocene altri in commercio con questo aspetto sferico. Il Terminator è disponibile in molti colori diversi, intercambiabili perchè la copertura esterna si può sostituire (ed un'alternativa è sempre presente nella confezione).
Oltre ad essere uno speaker, è in effetti anche una specie di lettore MP3, dato che si può semplicemente inserire nella sua porta USB una memoria che contiene le vostre track. Ci sono anche due jack per le cuffie, e questo significa che da un solo apparecchio connesso tramite Bluetooth possono ascoltare musica fino a 3 persone (uno connesso allo smartphone o tablet, due al Terminator).
Come spesso succede con questo tipo di speaker, è possibile connettere più Terminator allo stesso apparecchio, per migliorare l'esperienza già di per sè piuttosto buona. Dotato di un amplificatore interno e dipendente da una batteria al litio di 800mAH il piccolo Terminator sa farsi certamente valere.
Il prezzo dovrebbe aggirarsi attorno alle £50. Chissà se da qui alla sua uscita definitiva gli troveranno un nome decente.
Via | Crave