Delkin Revel: player con SD card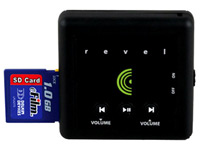 La Delkin ha appena rilasciato Revel, un MP3 player senza schermo che andrà in diretta competizione con l'iPod Shuffle. A differenza di quest'ultimo, vede la possibilità di cambiare SD e quindi espandere la capacità di storage.
Funziona con una singola batteria AAA e ne viene garantita lunga durata. L'unica caratteristica "cool" è la condivisibilità della musica.

Quasi scherzosamente, nel comunicato affermano "The Revel can carry an unlimited amount of pictures, music, files or data and is only limited by the number of SD cards you own." (Il Revel può trasportare un numero illimitato di immagini, musica, file o dati e sarà limitato solo dal numero di SD card in vostro possesso.)
Sarà in vendita a $54.99/€45.70 per 256MB, $69.99/€58.20 per 512MB, $109.99/€91.45 per 1GB e $149.99/€124.70 per 2GB.
[via generationmp3]