Drum Jeans, i pantaloni che suonano come una batteria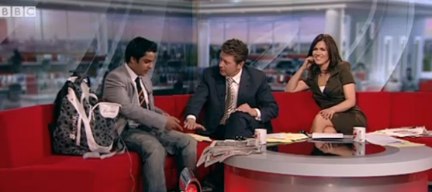 Sarà capitato a tutti di immaginare di avere due tamburi al posto delle gambe e iniziare a suonare battendo le mani sulle cosce. Quel gesto così naturale, in realtà, potrebbe trasformarsi in un reale strumento musicale mediante un paio di jeans molto speciali.
Realizzati dal diciassettenne Aseem Mishara, che abita in Gran Bretagna, sembrano dei normali jeans. Il tessuto non è rigido, quindi si possono indossare come tutti gli altri pantaloni. Su un lato, però, c'è un jack per collegare delle casse esterne.
Battendo sulle gambe le casse riproducono il suono di una batteria. Il prototipo di Aseem non è ancora un prodotto commerciale, ma le possibilità di utilizzare questa invenzione sono alte, soprattutto dopo avergli fruttato un premio per il "Young Engineer of the Year".
[via BBC]