Superata la soglia dei 100 terabit al secondo con la fibra ottica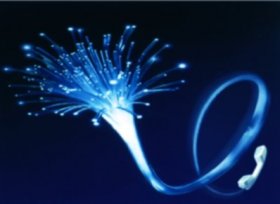 Vi lamentate della connessione alla rete di casa vostra? Sappiate che in Giappone sono riusciti a toccare la velocità di 109 terabit al secondo, vale a dire una velocità così elevata che l'unico ostacolo per scaricare un film ad alta risoluzione in meno di un secondo è solo la velocità dell'hard disk.
Il risultato è stato raggiunto dal NICT (National Institute of Information and Communications Technology) in collaborazione con la Sumitomo Electric Industries, battendo il limite teorico dei 100 terabit al secondo. La rete che ha trasportato queste informazioni ha unito due punti a 16,8 Km di distanza.
Ora l'obiettivo sarà trovare dei sistemi di raffreddamento delle fibre. Una velocità così elevata le deteriora in breve tempo. Speriamo di vedere aumentare i fondi per la costruzione di una rete allargata a fibra ottica anche nel nostro Paese, visto che la recente promessa di 1,2 miliardi di € per questa infrastruttura è calata ad appena 70 milioni.
[via CDrinfo]