Il mosaico di Super Mario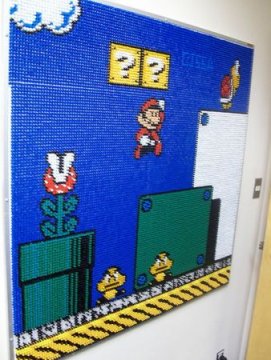 Se mettiamo insieme le parole "mosaico" e "videogioco" la connessione non è esattamente istantanea: l'uno ci riporta agli antichi albori delle civiltà mediterranee, mentre l'altro ci rimanda al massimo agli ultimi anni del 1900. Eppure c'è chi ha pensato di mettere insieme le due cose per dare vita forse a un nuovo concetto di arte, ma anche di simboli e rimandi linguistici.
Gli studenti della University of the Fraser Valley hanno realizzato infatti un mosaico composto da ben 17.000 piccole tessere, con soggetto ispirato al mitico Super Mario, che pochi giorni fa ha celebrato il suo 25esimo compleanno (ne dimostra di più però!).
La scena ritratta è mitica e fa parte del corredo "culturale" di tutti coloro che sono nati negli anni '70 e '80. Potrebbe essere un'idea per rivestire interamente le pareti di casa di una donna geek o di un appassionato di retrogaming?!?
[Via Gizmodiva]