To Do Tattoo, gli steaker da mano per smemorati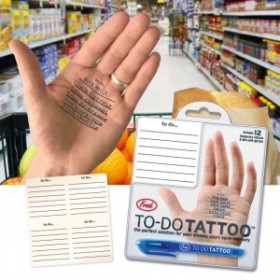 Di solito le note sulla mano si facevano a scuola per non dimenticare formule o passaggi importanti. Se siete dei smemorati in generale, ora potrete scrivervi nel palmo della mano con ordine e coerenza.
To Do Tattoo, infatti, permette di disegnare nella mano delle righe in cui scrivere cosa vi serve. Si potrebbe usare per la lista della spesa o per creare una lista di cose importanti da fare. Il pacco da 12 steakers si vende per 3,39 $, circa 2,50 €, su coolstuffcheap.
[via funniestgadgets]