MEDL Technology annuncia The Panel, il primo monitor a LED portatile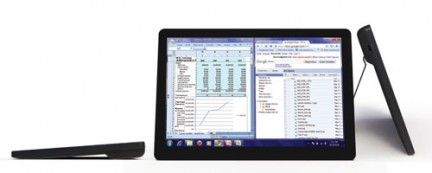 MEDL Technology ha annunciato un prototipo di dispositivo pensato per gli utenti sempre in movimento: si chiama "The Panel" ed è un monitor retroilluminato a LED assolutamente portatile.
The Panel è uno schermo da 13 pollici con risoluzione WXGA, che gli utenti provvisti di notebook e netbook potranno utilizzare in viaggio per lavoro, e che tutti gli utenti potranno utilizzare anche per divertimento in qualunque luogo si trovino, in quanto The Panel si collegherà anche a videocamere, lettori DVD, iPhone, iPod, PlayStation e Xbox.
The Panel pesa meno di un chilogrammo ed è dotato di una batteria interna ricaricabile che promette 5 ore di durata, nonchè di un supporto da scrivania per poterlo appoggiare come un monitor fisso.
Il collegamento a pc o Mac avviene tramite un normale cavo USB. Non sono stati resi noti nè prezzo nè disponibilità di questo nuovo dispositivo, di cui però rimane dubbia anche l'effettiva utilità.
[Via Slashgear]