Lg Vs Samsung, Dual Cpu per notebook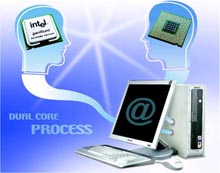 La Corea, è la prima nazione a lanciare sul mercato un Pc portatile con doppio processore.

Lg Eletronics ha presentato, venerdi scorso, un notebook basato su Chipset Napa Intel e 2 Cpu, in grado di aumentare le prestazioni del 30% in multi-tasking.

La nuova serie di laptop, prevede 14 differenti modelli, dotati di display LCD 15" X Note P1 e altri 4 modelli, pronti per il mese prossimo, dotati di ultra-light T1 14" e multimedia S1, ideali per "operazioni" in remoto.

Lo stesso giorno, Samsung, ha presentato un modello di notebook con doppia CPU, dotato di monitor da 15", in grado di riprodurre DVD e il segnale TV senza avviare alcun sistema operativo.

La batteria è garantita per 6 ore consecutive, ed il prezzo pare aggirarsi intorno ai 2.000$.

Perchè un notebook dual-CPU?


Come dice Lee Jeong-jun, il direttore di Lg Corea:

"Dual-core CPU technology allows users to better enjoy videos and three-dimensional games on their screens without experiencing broken images".

Solo a questo? a voi la parola...

[via chosun.com]