Custodia in pelle per iPhone 5 firmata Bentley
Realizzata a mano in Inghilterra, in esclusiva per Bentley da Ettinger of London, questa custodia è stata progettata per contenere l'iPhone 5.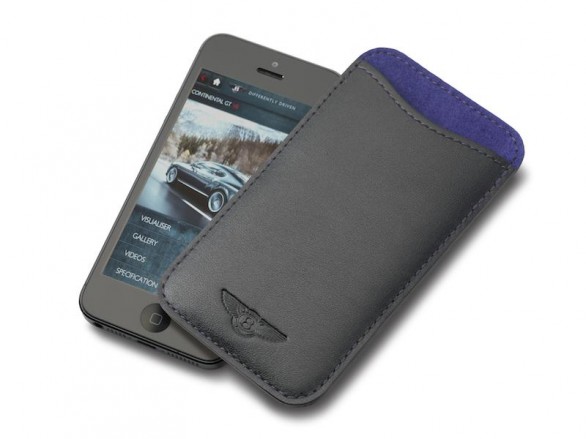 Proposta in tinta nera, con interno viola, si offre agli occhi con la classe delle auto prodotte dalla casa d'oltremanica.
Legata alla Continental
Quest'opera si lega idealmente alla magia della Bentley Continental, scelta per il secondo anno consecutivo come "Classic Car of the Future" nella categoria Coupé dai lettori della prestigiosa rivista Motor Klassik, una pubblicazione di Motor Presse Stuttgart.
La fuoriserie britannica si inserisce nel solco dei modelli che hanno forgiato la reputazione del marchio. Il suo sbarco sul mercato risale 2002, quando la Continental GT ha rivoluzionato il segmento del lusso, con un prodotto dal dinamismo sportivo, ma con una praticità idonea anche all'uso quotidiano.
Fascino british
L'arrivo di questa granturismo ha fatto rinascere il fascino del celebre marchio d'oltremanica, un po' sbiadito negli anni precedenti, per scelte aziendali non proprio congrue alla nobiltà di un brand che richiedeva espressioni più forti dei propri valori caratteristici.
La Continental GT unisce in sé doti tecniche di eccellenza, alta classe e notevole discrezione. Si caratterizza per le linee eleganti, la qualità della lavorazione artigianale, il livello prestazionale e l'agile manovrabilità. Il telaio e la scocca in acciaio, eccezionalmente rigidi, sono più che capaci di far fronte ai tanti cavalli di potenza erogati dal motore W12 di 6 litri di cilindrata. A questa creatura, almeno in forma ideale, rende omaggio la custodia di cui ci siamo occupati, offerta al prezzo di 55 sterline. Sarebbe bello se l'acquirente, oltre all'iPhone 5, avesse la Bentley, ma sognare non fa mai male.
Via | Bentleymotors.com