Galaxy Note 10.1: compaiono le immagini di un primo unboxing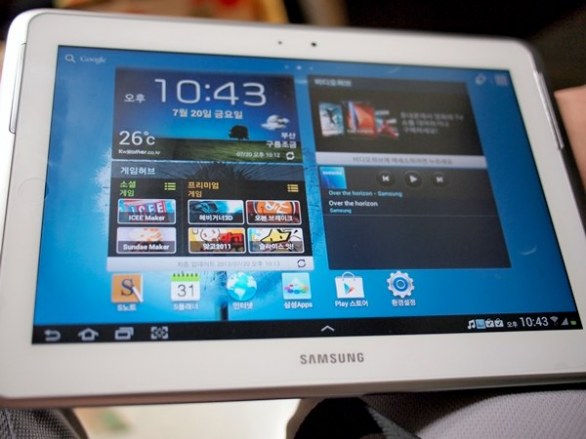 Su The Brave Post, che come noterete è un blog decisamente coreano, compaiono delle immagini estremamente golose di un Galaxy Note 10.1 bianco in tutta la sua gloria: un unboxing che rivela qualche nuova interessante feature di questo vero e proprio oggetto del desiderio fatto da Samsung.
Presentato al MWC, il Galaxy Note 10.1 è stato modificato ed aggiornato leggermente con il passare dei mesi. Quella immortalata potrebbe essere la versione definitiva. Al suo interno - oramai si sa - c'è un quad core 1.4GHz che va a migliorare quello dual core del prototipo. Ma non basta: in origine c'era 1GB di RAM, ora ce ne sono due e sul retro ha fatto la sua comparsa una fotocamera da 5MP invece di 3. Il display è 1280x800 pixel.

Il fulcro di questo tablet è la penna S-Pen alloggiata nella sua slot, con la funzionalità software dedicata capace di trasformare il Galaxy Note 10.1 in una quasi-tavoletta grafica. Prendere note su questo gioiellino deve essere davvero divertente.
Un'altra novità piuttosto interessante è rappresentata da una nuova funzionalità che consente di "accoppiare" il Note ad uno smartphone. Tramite esso l'utente potrà usare il tablet come speakerphone ed anche inviare e ricevere SMS - è poco chiaro come funzioni, ma si direbbe che il Bluetooth sia coinvolto.
Secondo The Verge, il nuovo Galaxy Note 10.1 dovrebbe essere presentato il 15 agosto ad un evento "Galaxy" che Samsung ha annunciato, magari assieme al preannunciato fratellino crossover Galaxy Note 2.
Via | The Verge