Samsung Galaxy Tab: le applicazioni Android si vedranno male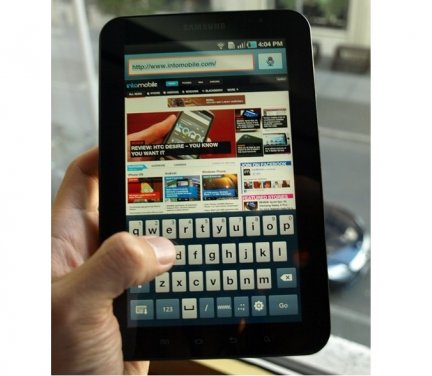 Samsung Galaxy Tab e il problema della qualità delle applicazioni: niente che già non ci fossimo immaginati in molti, ma che ancora tanti utenti potrebbero non aver considerato. Il tablet Samsung con sistema operativo Android 2.2 Froyo avrà applicazioni ottimizzate per il display da 7 pollici, ma altre (numerose) non lo saranno, quindi la qualità di visualizzazione sarà bassa.
Parliamo della stessa esperienza degli utenti iPad quando scaricano applicazioni per iOS non in versione "HD" specifica per il display del tablet: l'applicazione posta a tutto schermo viene sgranata e non è certo piacevole da utilizzare. Se invece viene utilizzata a dimensioni normali (ovvero quelle studiate per essere utilizzate con iPhone), la vedremo piccola e contornata dal nero di sfondo. La stessa cosa succederà ai possessori di Samsung Galaxy Tab.
Tra le ragioni per le quali sembra che molti tablet Android non abbiano accesso all'Android Market vi è anche la resa delle applicazioni su uno schermo più grande di quello di uno smartphone. Nonostante il display da 7 pollici non costituisca un salto incredibile rispetto a quello da 3.7-4.3 pollici di alcuni nuovi smartphone, la perdita di qualità delle immagini è notevole. Rob Enderle, analista dell'Enderle Group, ha detto:
Apps aren't going to scale right and won't be quite as pretty. The apps are probably going to be a little ugly
Ovvero: le applicazioni non si ridimensioneranno nel modo giusto e non saranno altrettanto belle. Le app saranno probabilmente bruttine. Hugo Barra, direttore dello sviluppo di prodotti mobile di Google, ha più volte sottolineato come l'esperienza Android non sia ancora ottimizzata per i tablet al momento:
Android is an open platform. We saw at IFA 2010 all sorts of devices running Android, so it already running on tablets. But the way Android Market works is it's not going to be available on devices that don't allow applications to run correctly. Which devices do, and which don't will be unit specific, but Froyo is not optimised for use on tablets.
Traducendo, Android è una piattaforma aperta. Abbiamo visto all'IFA 2010 ogni sorta di terminale con Android, e già viene utilizzato sui tablet. Il modo in cui, però, l'Android Market funziona non sarà disponibile sui terminali che non consentono alle applicazioni di girare correttamente. Dipenderà dall'unita presa in considerazione se funziona o meno, ma Froyo sicuramente non è pensato per i tablet.
Il Samsung Galaxy Tab offrirà una buona esperienza di lettura, di navigazione sul Web e fruizione di video/contenuti multimediali e il supporto per la video chat, che potrebbero essere un motivo sufficiente di acquisto per molti (nonostante il prezzo non certo alla portata di tutti). Chi cerca invece un'esperienza di utilizzo intensiva di Android e delle sue applicazioni, dovrà fare i conti con questo aspetto: accontentarsi della risoluzione poco piacevole o attendere che gli sviluppatori Android si muovano a sviluppare app ottimizzate per i 7 pollici o comunque per il mercato tablet.
Personalmente, nella mia esperienza di utilizzo dell'iPad di Apple, trovo molto fastidioso l'utilizzo di applicazioni non ottimizzate, che escludo a priori se mi si offrono alternative "HD" anche meno interessanti dal punto di vista delle funzioni. Cosa ne pensate? Qual è la vostra esperienza in merito?
[Via IntoMobile]