Out of the Box, il concept del manuale di istruzioni per smartphone di facile comprensione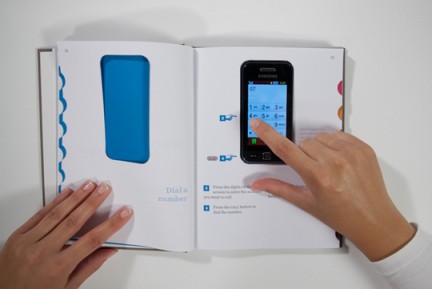 Tale Clara Gaggero, in collaborazione con Adrian Westaway e Jaakko Tuomivara, ha pensato a tutti coloro che non hanno grande dimestichezza con la tecnologia, ma che in fondo ne sono tanto affascinati da azzardarsi ad acquistare uno smartphone di ultima generazione: così è nato "Out of the Box", un concept di manuale di istruzioni che appare utile e divertente anche per i meno avvezzi all'elettronica.
In pratica la confezione dello smartphone non prevederebbe un manuale di istruzioni a parte, ma ingloberebbe il dispositivo stesso al centro del manuale, in un apposito vano creato fra le pagine. Ogni pagina del manuale potrebbe così indicare tasti e funzioni direttamente sul telefono, risultando più chiaro per tutti gli utenti non troppo informatizzati. Lo stesso concetto si potrebbe anche estendere ad altri dispositivi elettronici portatili, come lettori mp3, MID o PMP.
Sicuramente non si tratterebbe di un manuale eco-friendly come quelli elettronici, ma potrebbe effettivamente risultare efficace come divulgatore di istruzioni. E' curioso pensare che in quest'era dove la tendenza è quella di pigiare centinaia di libri nell'esiguo spessore di un ebook reader o di un tablet, rendendo tutto digitale, un concept che può essere definito "innovativo" prenda in considerazione invece un manuale cartaceo, addirittura inserendovi dentro un dispositivo elettronico. Potrebbe essere il mondo che comincia ad andare alla rovescia (o è sempre stato così?!?).
[Via Unplggd]